Gateway Cycling » Club News » Volunteers for Testing at University of Essex
The following request was received from the University of Essex School of Sport, Rehabilitation and Exercise Sciences in Colchester. If anyone is interested it may be interesting. The poster and website details are at the end of the message.
Hi,
I am a lecturer at the University of Essex and Director of the Human Performance Unit. I am looking to recruit cyclists to volunteer in a laboratory experiment as part of our Sports and Exercise Science degree programme. In return we are offering a free lab test at the Human Performance Unit for all participants (use within 6 months). I would be very grateful if you could circulate this opportunity among your cycling community via email and/or social media.
Please do not hesitate to contact me if you have any questions,
Many thanks for your time,
Chris McManus
Dr Chris McManus PhD, FHEA
Lecturer in Sports and Exercise Science
Director of the Human Performance Unit
School of Sport, Rehabilitation and Exercise Sciences
University of Essex
(pronouns: he/him/his)
T +44 (0)1206 874475
► www.humanperformanceunit.co.uk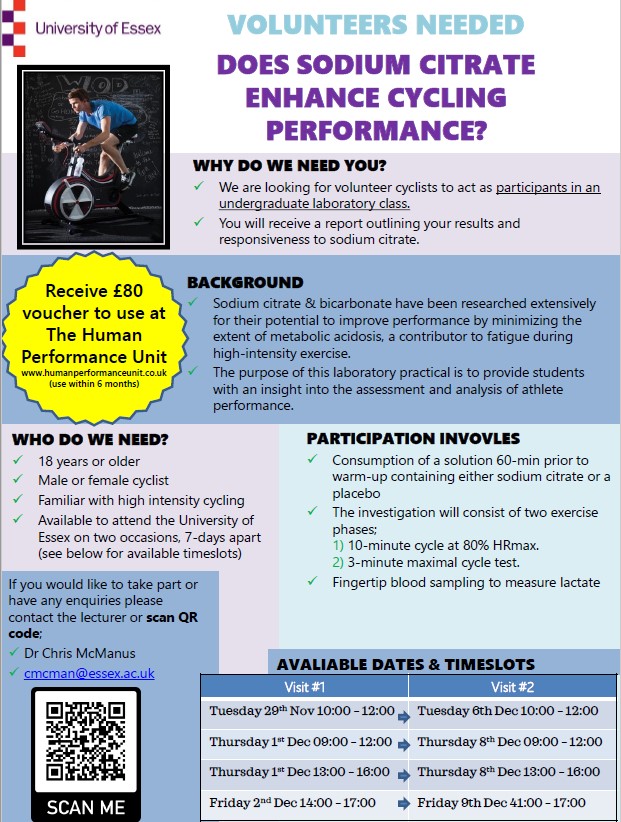 Filed under: Club News