Gateway Cycling » Club News, Road » Gateway Blackmore Ride (Sunday 4th September)
5 of us at Bulphan – 4 of the usual group and one new addition, Alex. Chatted with Recreation group then went out via Doesgate Lane and Dunton past the boot fair main entrance up Rectory Road to Little Burstead and onward to Tye Common Road. At Billericay we took Mountnessing Road onto Old Church Lane / Old Church Road / Church Road into Mountnessing crossing Roman Road onto Thoby Lane / Mountnessing Road left into Ingatestone Road and then into Blackmore to stop at Blackmore Tea Rooms on the Green.
Food and drink and chat; meeting Bettina and Mick who had ridden there separately. Also Paul J. and 2 ex members were there as well. For the first time that I have seen it, someone tried to get out of their upstairs apartment but the door was blocked by bikes.(see photo for location). For some reason, the people whose bikes were restricting the exit were trying to tell the man who lived there that he couldn't get out because the door was locked – eventually understood, moved the bikes and the resident and his daughter were free to leave.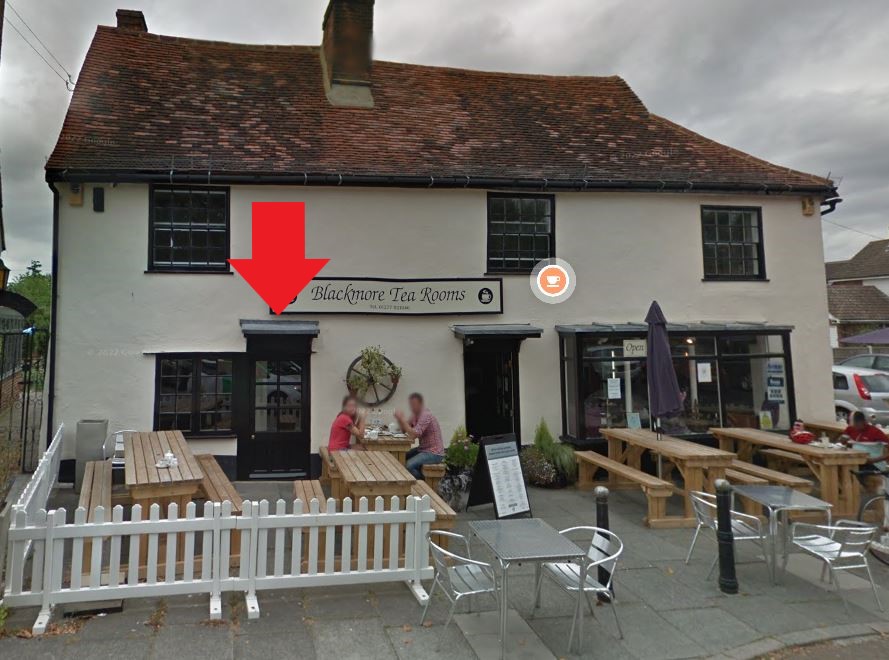 Back home along Blackmore Road / Outings Lane right onto Church Lane and left onto Doddinghurst Road followed by a left onto Hall Lane leading to Worrin Road. Priests Lane into Brentwood and across the lights to Seven Arches Road / Hartswood Road and right onto Woodman Road with the Brave Nelson pub and nearby cemetery (not related I hope). Left onto Warley Hill / Warley Road and down Great Warley Street./ Warley Street and left onto St. Mary's Lane, right onto Dunnings Lane (complete with traction engine in the opposite direction), left onto Fen Lane and back to Bulphan.
Dave Hellen rode past, returned and had a chat before moving on.
Route available at: https://ridewithgps.com/routes/40839433