Gateway Cycling » Road » 100 miles in the Essex Sun – Ride Report – Sunday 13th June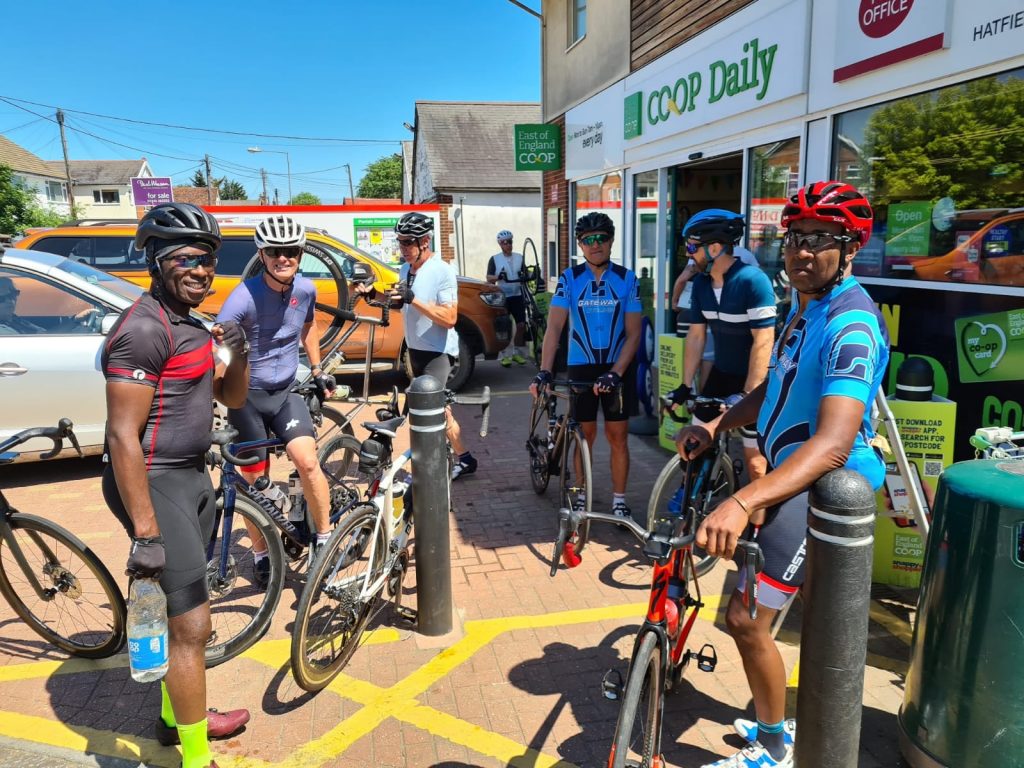 It would seem the Gateway Cycling Club has got off to a flying start as covid restrictions relax… Over the past few weekends a mixed bunch of insane cyclists set off to conquer a century in the saddle… No mean feat!The meeting place – Bulphan Primary School, 8am 13th June…
As the mercury sharply rose into the 20s Dave R lead the group out to conquer the Dengie Peninsular….
A gentle climb out thru dunton, past the boot sale and on to Botney Hill… taking in views of Ford Dunton from across the farmland.
On thru Burstead, Billericay, Norsey Wood and the lovely windmill pub at south hanningfield (no stopping yet tho)… We crossed the A130 and entered the land of Dengie….
Passing some lovely scenery, vineyards and rolling countryside, Cold Norton (another pub we passed and not stopped), Latchingdon and on to our Cafe stop at Burnham Yacht Club…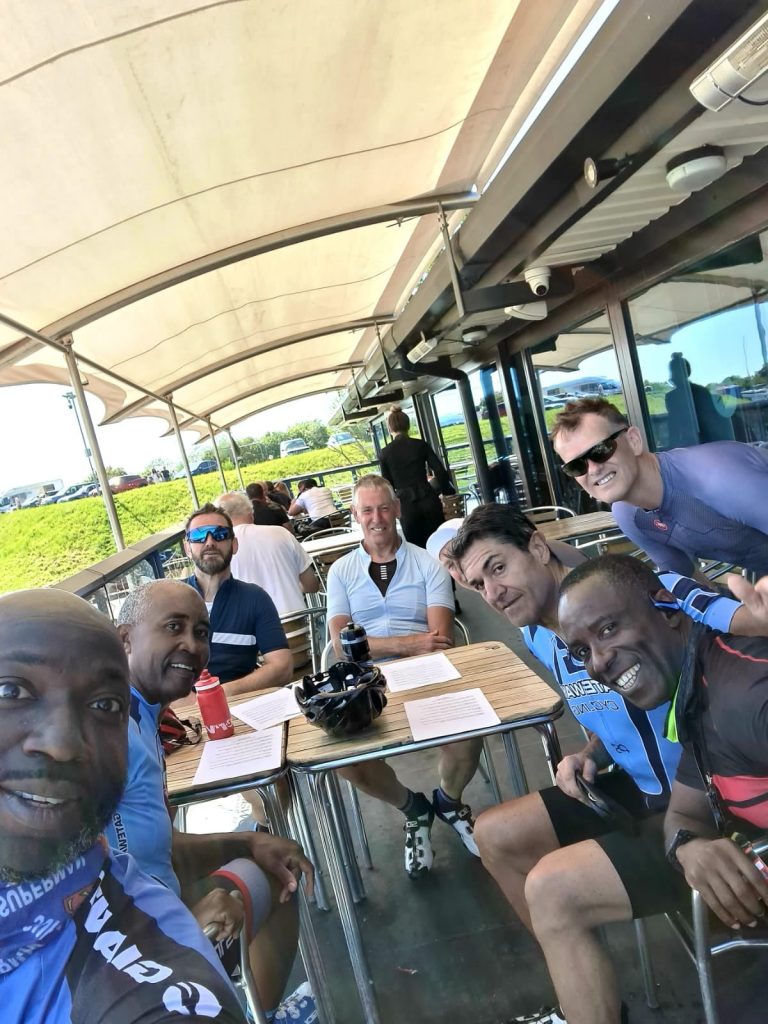 The lads decided to have a little photo opportunity while tucking in to salmon and eggs… (photo attached)… Must fuel the body correctly of course, next stop Hatfield Peverel….
Setting off from burnham we met up with a group of eBike riders on way to Bradwell *the long way i must add! Steve had these riders in his sight to take out.. not sure he resiled it was now hitting 30degrees and they had a little extra gogo juice than us…
However, we passed them and luckily enjoyed draft from a tractor for a few miles, enough to re-coupe anyway!
Bradwell to Woodham Mortimer was interesting… place & road names became talk of the peloton… Cock Clarks, TomTit Lane just a couple of odd ones that made us snigger like kids, let alone the banana skin that was left flapping out the back of Clints jersey!
Passing thru the lovely locks of Woodham Mortimer with a slight climb up to Hatfield Peverel we finally made it to the salubrious CO-OP shop for a welcomed energy stop.. Knowing full well North Hill was looming at papermill lock…
The homeward stretch, heat was rising further, tipping 30 degrees on the garmin… Shady roads of Gay Bowers (sniggers again) offered some much needed rest-bite from the sun…
Crossing back over the A130 we finally depart Dengie with Bulphan firmly in our sights!
What a ride…! Clocking up just over 100mls in heat that would fry an egg on the tarmac is no mean feat!
With thanks to Dave R for arranging the route and the guys – banta was on pointe… a total pleasure to ride with you all
Here's to the next ride some time soon!
For route info >>>
https://www.strava.com/activities/5463588524
Filed under: Road