Gateway Cycling » Club News » Bob's mid week ride to Kent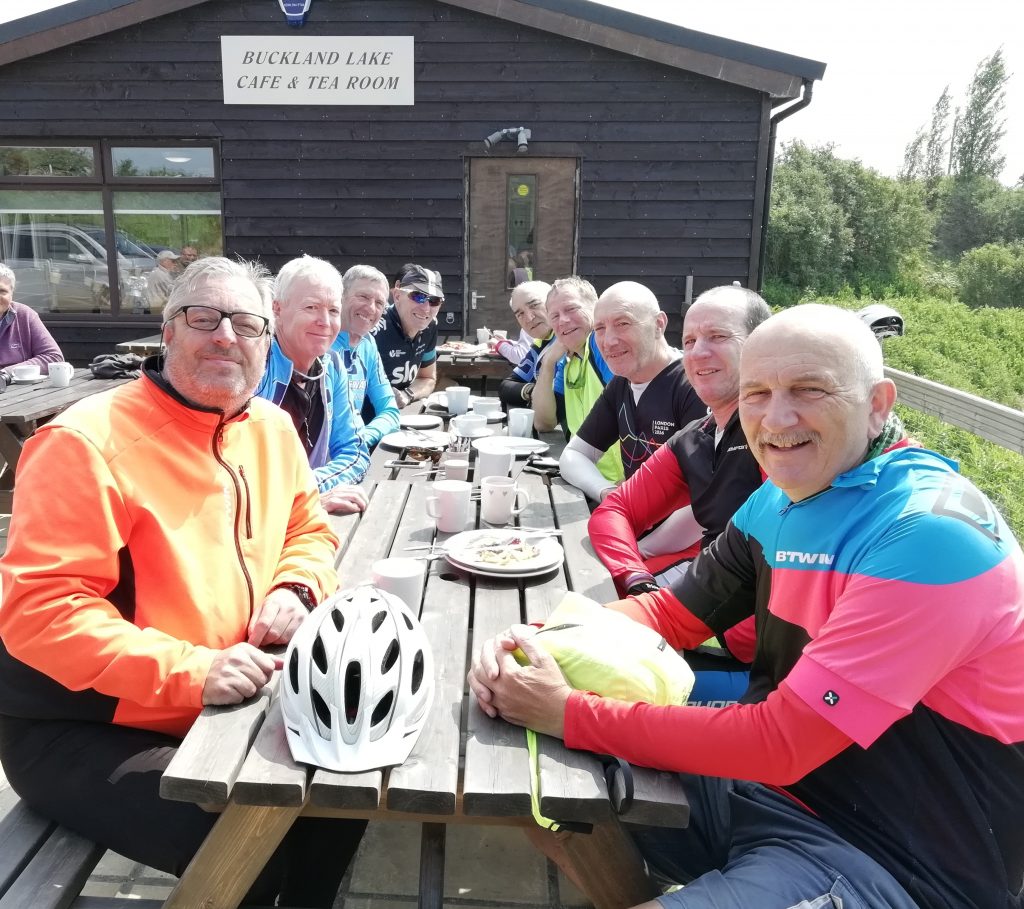 We were lucky enough to have two submissions from our club members for this ride. Both the ride leader, Jon L, and the venerable Bob have both written about Bob's Wednesday group ride across the river into Kent. Rather than choose one over the other, or mash them together into one edit, we've put both of them below with a few photos taken during this ride and the recce ride by Chris G and Phil B.
Following an earlier 'check out' ride we met on a perfect sunny morning at Tilbury landing stage, nine of us crossing the Thames on the 08.50 ferry to Gravesend. A steady push up out of Gravesend town and away from the traffic we turned off the main road and onto rideable tracks, small back roads, and in to the glorious green Kent countryside. Through the pretty village of Sole Street and onto Cobham, a slight gradient but very manageable.

Passing Shorne country park and the village, we whizzed downhill to Upper Higham and made a right turn by the church and along Hermitage Road – with inspiring views across the Thames. Riding narrow quirky roads we could have almost been back in time to an earlier age… With not too fast or slow a pace and jolly banter along the way we got to the Cliffe cafe for good tea and eggs and bacon and more.

After much chat and soaking up the sun we headed back to Gavesend, via Lower Road, and took a final stop beside Thames for ice cream on the family friendly Gordon's Promenade. Crossing back to Tilbury the ferry men, as before, were very helpful with getting the bikes onto the boat.

A really good Gateway Cycling day out – in great company… Cheers!
Jon L.
Nine of us met up at Tilbury Ferry at 0830 this morning for a trip over the river to Kent. The ferry crew were very helpful as nine bikes in one go is a bit more than they are used to.

Heading south out of Gravesend we threaded through the traffic until turning east on to quieter roads and lanes which lead us out through Shorne, Cobham,Lower Higham and out to the cafe at the Cliffe nature reserve where refreshments were taken.

We then headed back towards Gravesend on the lower road through Chalk to avoid the rocky canal path which we used last week on the recce ride.On arriving on the Gordon Promenade we stopped again for a variety of Kelly's west country ice cream, chat and photographs before reboarding the ferry and returning to Essex and home. Thanks go to Jon L for leading this different enjoyable day out. Bob D.
Filed under: Club News