Gateway Cycling » Club News » Gateway Hill climb Sunday 18th October 2015
For the third year running our end of season hill climb took place up Childerditch lane, this isn't a massively steep hill but it's fairly long and you do have to measure your effort on this climb.
There were fifteen club member's and two guest's trying their hand at this climb on a lovely sunny morning. First place went to two members Paul T, and Matt S, who both recorded a time of 4 mins 26 seconds! Both refused the offer of another run up the hill as a tie breaker! I think that everyone had a good time, but it was hard to tell by some of the gurning going on at the finish line. It was really good to see some of the riders from our regular improver's ride taking part as it's not all about being first over the line, but about testing yourself and joining in.
Thanks to Colin for being the starter at the bottom of the hill, and his assistant Deb. Also thanks to Jon who did a good job of making sure that everyone was safe from the traffic at the start.
Well done everyone, and thanks to you all for making it a pleasant morning.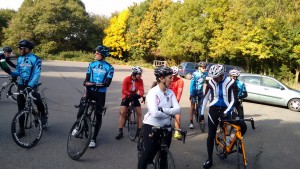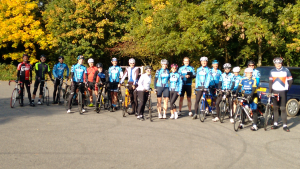 Filed under: Club News