Gateway Cycling » Road » Gateway Summer Time Trial Series – Week 4
Cyclist's are like flies, when the weather gets warm there are loads of them buzzing about!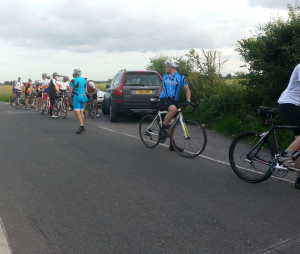 Last night was a perfect night for the TT, lovely and warm and a slight breeze that was hardly noticeable. 17 riders turned out to test themselves, again some old faces from last summer returned. Two new riders joined us for a ride, Mark B, and Chris K, welcome to the Gateway TT.
Of the 17, 1 rider had a problem on the way round and has asked for his time not to be posted, as he felt it wasn't representative of what he could do. Of other 16, two of them posted times that they weren't happy with, although they were hardly slow, and the rest were happy bunnies when they had finished.
The two new riders Mark, and Chris seemed happy with their times. Seven riders recorded PB's last night, take a bow Rob G, Rob H, Richard W, Paul E, Ian S, Matt S, and Alex M. Matt S And Ian S both did very well with Matt getting well under 18 minutes with a 17:38 from his previous best of 18:06, and Ian S brought his time well down to 18:01, just another two seconds off to get in the 17's. "Must try harder" goes on to his end of term report 🙂
Big thanks go to Colin (Charlie Potatoes) for marshalling at the bottom of Dunnings Lane, Any volunteers for this job next week please?
Here's the usual link to the results sheet………
https://docs.google.com/spreadsheet/ccc?key=0As4jEVgawdpsdHdxYjZJc19ONUVJU0FKMlhvUHQ5d2c&usp=sharing#gid=0
See you all at 7:15pm next Wednesday.
Filed under: Road