Gateway Cycling » Club News » Foulness Ride Report
A most excellent ride. Bert and me met at Stanford station (Frances rode on to Bulphan…) and we two rode to Basildon station where it was a faff to get the train to Southend… From here we whizzed along to the Cupids Country Club Wakering for registration and met with Dave F and Sharon P – who'd both trained it from Upminster to Shoebury.
A very pleasant, well organised event with many marshals and helpers encouraging everyone along. Through the security check point manned by young army cadets and out on to the straight military roads and there, across the distance fields were strange concrete structures. The feeling was of a post WW 2 Britain, no modern developments, ideal for an apocalyptic episode of Dr Who… Much chat and cheery Hello's! from everyone.
The weather was fine with a bit of breeze, the gravel stretch near the Heritage Centre was a challenge for skinny tyres. A short stop with many others near the island pub/church and then back to Cupids' where we collected our medals (see photo) From start to finish was 14 miles.
Out and onwards along the Southend sea front where at the Captains Table restaurant, under the 'arches,' we took much needed refreshment. Sharon – "This is the best cooked breakfast I've ever had"… Tired and stuffed full, we hopped the train, Bert off at Pitsea and home, Sharon and me out at West Horndon and meandered to Grays, Dave to home via Upminster. Sunshine, the seaside and cycling – the perfect day. Cheers! Jon L.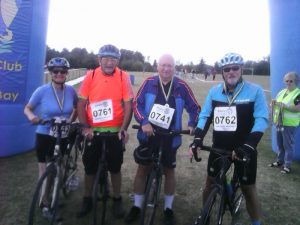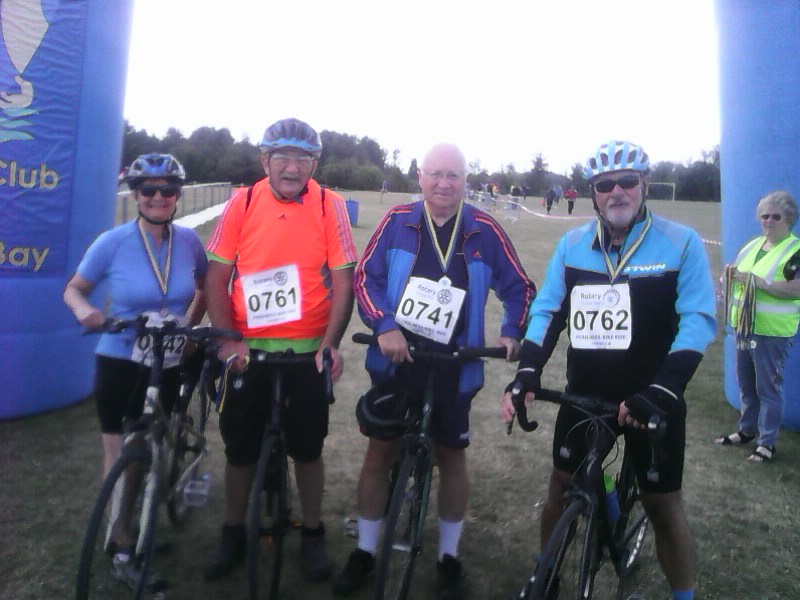 Filed under: Club News